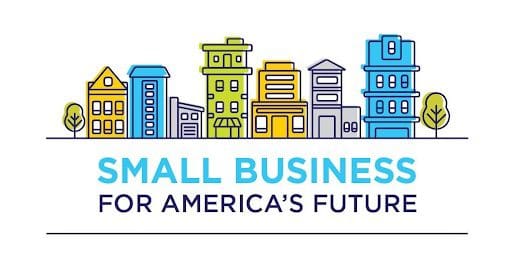 FOR IMMEDIATE RELEASE
Tuesday, August 2, 2022
Contact
conan@emccommunications.com
(831) 524-6764
Washington, D.C.– Small business owners across the country are joining economic experts and the media in raising their voices in support of the Inflation Reduction Act of 2022, which would rein in expenses that severely impact their bottom line. As we saw during the Small Business for America's Future White House briefing on Tuesday, the Act addresses top small business economic concerns by lowering the cost of prescription drugs, stabilizing health insurance prices, ensuring large corporations and the wealthy pay their fair share in taxes and tackling inflation by reducing the deficit.
Small business owners have long-supported efforts to ensure all companies are paying their fair share in taxes, and welcome the fact that establishing a corporate minimum tax will create a level playing field for Main Street businesses. Small business owners also are pleased that the Act would install these important provisions and dedicate more than $300 billion to reducing the deficit and fighting inflation without placing any new taxes on small business owners or families making $400,000 or less.
America's small businesses employ nearly half the country's workers, bring economic vitality to all our communities, and traditionally create most of the jobs that pull us out of recession. They feel this is fair and patriotic legislation that ensures everyone—corporations and the wealthy  included—is doing their part to increase the country's economic prosperity.
Here's what small business business leaders, economic experts and the media are saying about theInflation Reduction Act of 2022:
"Unless Congress passes the Inflation Reduction Act of 2022, small business owners across my state and the nation will lose the federal premium assistance that has enabled them to have quality, individual health insurance through the Affordable Care Act, just like their employees. These entrepreneurs will be forced to either be without health insurance or get cheap, little-benefits plans on the open market."
Frank Knapp, Carolina Pet Resort and President & CEO, South Carolina Small Business Chamber of Commerce, Columbia, SC 
"The Inflation Reduction Act addresses several key issues for small business owners and ensures large corporations and the wealthy pay their fair share. Many large corporations have been quick to use inflation as cover to raise prices while experiencing record profit margins, which places financial strain on Main Street businesses. And small businesses are disproportionately burdened by a tax code that favors the biggest corporations.The effective federal tax rate for small businesses is 19.8%, while many corporations pay little or even no tax. For our Main Street economy to grow, corporations must pay their fair share. This will help fund programs that empower small businesses to compete on prices and services."
Walt Rowen, Susquehanna Glass in Columbia PA 
"As a small business owner in the Master Systems Integration Information Technology field, the Inflation Reduction Act of 2022 is enormously important in reducing the total cost of doing business. The areas of focus I like are the 15% corporate minimum tax, prescription drug pricing reform and IRS tax enforcement—all elements that help level the playing field. This is a great bipartisan win."
Joe Reddix, The Reddix Group, LLC, Hanover MD 
"If you're not a tax cheat, hedge fund manager or a corporation making over $1 billion, you're not affected."
Steve Rosenthal, Tax Policy Center
"Our growing communications firm employs 10 talented West Virginians and serves nonprofit clients in Appalachia and beyond. Because we are committed to attracting and retaining a talented workforce, we offer comprehensive health insurance. But the cost of healthcare is skyrocketing and is in turn limiting our growth as a company. It's true that small businesses are the backbone of America's economy, but we shouldn't bend over backwards to just stay in business."
Carling McManus, CEO 84 Agency, Charleston, WV  
"The revenue raised to finance [these investments] would come exclusively from wealthy individuals and corporations."
126 Economists
"My accounting firm, employing nine people in Ohio, is a family, even though we don't share a family tree. It is hard watching high healthcare costs hurt our staff and their loved ones. The Inflation Reduction Act is also the healthcare cost relief act because it will help our 'family' keep their families healthy without breaking the bank. We hope it will also bring a full company health insurance policy back within our reach as a small business. This legislation ensures large corporations and the wealthy pay their fair share of taxes, which means we will be able to invest in programs like these that will truly help Main Street businesses and their employees."
Anne Zimmerman, Zimmerman & Co CPAs Inc, Cincinnati, OH  
"There is a lot for rural small business owners to like in the Inflation Reduction Act, from tackling the high cost of prescription drugs to ensuring corporations can't work loopholes to pay little or no taxes. This bill also supports rural communities by investing in farmers to become part of climate change solutions, ensuring that rural communities are able to better-adapt to a rapidly changing climate. These components show how important this legislation is to all of us."
Frank and Kimberlee Spillers, Rural Community Solutions, Atlantic, IA
"Last weekend, Republican senators released a companion analysis from the Joint Committee that they said was proof the entire bill would raise taxes on the middle class, though it did not actually show middle-class Americans would pay more taxes under the plan."
New York Times
"My faith in government continues to be restored. Several months ago, I along with a collective of diverse business owners met with members of Congress and the administration to share the challenges of prescription drug prices and coverage and the need for green investment. Our voices matter and we can affect change. This legislation reflects that."
Dan Guerra, AltusCampus, Madison, WI
"Our small business, like thousands of others, is a job creator. We bear all the risks so our economy's engine can power through tough times. The rising costs associated with health insurance and the limitations placed on financial savings are choking us. Pass the Inflation Reduction Act and give small businesses the support we need."
Sissy Blanchard, Saltwater Porch and Patio, St. Simons Island, GA  
"Taking care of our employees is always Job One for us. Exploding healthcare costs and now rising inflation threatens our restaurant's ability to remain open much less take care of our 40+ employees. I urge Congress to pass this legislation to bring down healthcare costs and reign in inflation. This will allow the B&L to continue to serve our community, ensure our employees have a future and prepare us for a successful future as we enter our third decade in business.  Small business is the backbone of our region, and America."
Patrick Mulvay, B&L Restaurant in Sacramento, CA  
"People implying that the tax will show up on tax forms for middle-class families are clearly wrong. It won't."
Jason Furman, Harvard University
"Our family-owned marketing firm with nine employees would love to see healthcare prices stabilized and prescription drugs costs lowered. The positive impact of this legislation would be priceless to our bottom line and increase the morale of our small team."
Shaundell Newsome, Sumnu Marketing, Las Vegas NV and chair of the Las Vegas Urban Chamber of Commerce
"My salon has seen energy costs double. The cost of supplies has increased by 20%. Although my prices have gone up, they haven't kept pace with my costs for goods and services. I'm glad to see Congress is doing something to address inflation and help with costs that impact small business's  bottom lines."
Patty Young, Patty Young Hair, Springfield, OH 
"As a non-medical home care business I see everyday how high drug costs hurt our communities, especially minority communities. If people cannot afford healthcare because of high drug prices then our healthcare system is not working. As a small business owner I believe we need healthy communities. Without healthy communities we cannot have a healthy workforce. Congress must pass drug pricing legislation so that all Americans can have the healthcare they deserve."
Sylvia Nyarko, Love & Compassion Senior Care Services in Tucson, AZ
"My digital agency has seen health insurance costs rise dramatically and the level of care recede. I have a very sick employee, who needs care, and insurance refuses to approve proper treatment. She is only working 10 hours a week due to her debilitating condition. I beg our leaders to get this legislation across the finish line."
Nat Rosasco, Olive Street Design Villa Park, IL 
"As a clean energy business, planning to employ seven people. I am encouraged by the Inflation Reduction Act of 2022 and its efforts to create a 21st century clean energy economy that will help my business compete in the market and for top talent. I urge our leaders to pass this legislation that will help our economy better support Main Street entrepreneurs and thrive."
Jalaal Hayes, Elyte, Dover DE  
"Loopholes and tax breaks for large companies create a huge deficit in our country's budget which is being filled by small business and the middle class. We need changes that ensure large companies pay their fair share. The Inflation Reduction Act does just that. We need to see changes that will help level the playing field for small businesses."
Christine Chin Ryan, Synergy Consulting, Inc., Portland, OR 
"I am pleased to see forward progress finally being made on legislation that will directly improve my company's ability to do business. As an owner of an organization in the commercial aviation industry, we provide services that only a few are qualified to perform and our employees are critical to our success. The rising cost of prescription drugs and healthcare in general impact our ability to attract and retain talent. Also, leveling the playing field by making big businesses pay their share of taxes will only improve our ability to win future projects. I implore congress to pass this legislation and make history by introducing the most aggressive climate change bill ever."
Todd Hamlin, Global Aerospace Design Corp, Cincinnati,  OH 
"As a larger small business employing over 100 people, we are fortunate that we can offer our employees quality insurance for decent premiums. However, the skyrocketing cost of prescription drugs is a huge issue for our business. The rising costs of drug pricing has caused the cost of our plans to increase substantially on a regular basis. These costs impact our ability to provide benefits to our employees, which are essential to retaining top talent. I urge Congress to take action to lower drug pricing by passing the Inflation Reduction Act of 2022."
Marcella Medor, MarCom, LLC, Idaho Falls, ID 
"It is as hard as it ever has been to compete for workers as a small business owner. Additional investment to bring costs down will help businesses like mine offer better wages, invest in our business's growth, hire more people, and offer them the benefits they need to feel safe and ready for work."
Mas Torito, Kokoro Restaurant,  Denver, CO 
"Small business owners are the backbone of the economy, but skyrocketing drug costs are keeping us from making the investments we need for the future. It is time our leaders have our backs and act to rein in the cost of medication. I support allowing Medicare to negotiate directly with drug companies because I know the kind of difference it would make for my business and my employees. I urge Congress to pass the Inflation Reduction Act of 2022."
Candace Combs, In Symmetry Spa, San Francisco, CA 
"Large corporate companies with big budgets and staff often have better resources and larger infrastructure to both spend more on benefits packages, but also to negotiate better prices from insurance companies. Small businesses are pillars in their communities and drivers of employment and economic growth, but we need Congress to get rising healthcare costs under control to level the playing field and build a thriving Main Street."
Tiara Flynn, Sumnu Marketing in Las Vegas, NV 
"Many small businesses are still recovering from the economic impact of Covid-19 and continue to need support. One of the best ways to do that is to invest in programs that will help the bottom line of businesses and allow them to be more competitive in the labor market. I am glad to see the Inflation Reduction Act include lowering the cost of prescription drugs, which is a main driver of healthcare costs and continues to be the No. 1 policy issue for small businesses. I urge Congress to act on this crucial small business issue."
Dr. Erika Gonzalez, CEO, President, & Co-Founder of South Texas Allergy and Asthma Medical Professionals (STAAMP) and STAAMP Clinical Research, San Antonio, TX 
"My Wellness Tourism business has been restricted in growth due to the high cost of running a small business.  The Inflation Reduction Act of 2022 could help reduce costs for myself and my small business so I can create more jobs in my community."
Jenay Aiksnoras, Bliss Experiences and Lake Tahoe Yoga, Zephyr Cove, NV
"I have a small business with six employees who work as independent contractors therefore everyone is responsible for their own healthcare insurance. If the economy gets better and I'm able to bring on more employees, I could offer healthcare benefits to all. As a small business owner during this time of inflation, it has really been difficult for me and I would like to see more changes to help support small businesses succeed. This legislation opens more doors for small businesses and ensures large businesses open their pockets and pay more taxes."
Tomeka Lesane, Level Up Hair Salon LLC in Charlotte, NC  
"As small business owners, we are the heartbeat of America's economy. Through community networking, the hard work of our people and the Inflation Reduction Act of 2022, we will experience more security and sustained economic growth and achievements for our families."
Jerri Curry, Ph.D., Center for Mediation and Counseling in Benicia, California
"The implementation of drug pricing legislation would be huge in protecting our fellow citizens in the lower socio-economic scale from the out-of-control prices. It would lead to a significant amount of savings that would allow for these citizens to have a better quality of life. I urge Congress to pass this crucial legislation now."
Tim Sanders, Credit Repair of Florida in Sanford, FL