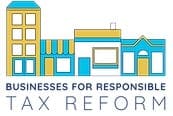 FOR IMMEDIATE RELEASE
Contact:
Conan Knoll
conan@emcstrategies.com
(831) 524-6764
Statement by Frank Knapp, Jr. co-chair of Businesses for Responsible Tax Reform and President & CEO of the South Carolina Small Business Chamber of Commerce
Washington, D.C., March 18, 2020—Amid expanding economic impacts and business closures from COVID-19, it was encouraging to see Congress pass and the president sign a bipartisan coronavirus relief package taking steps to help workers. However, we encourage lawmakers to swiftly pass additional measures that directly help Main Street small businesses, which are in danger.
We're glad to see legislation that provides paid sick leave to employees related to COVID-19, but as Congress continues to consider measures to mitigate the severe economic effects of the pandemic, we urge lawmakers to prioritize small businesses.
The IRS's decision to allow small business owners to defer tax payments until July is a good start but small businesses need additional direct relief. Simply making loans available is not good enough. We must inject money, which does not need to be repaid, directly into small businesses. Main Street entrepreneurs cannot go further into debt when they don't even know whether their businesses will survive.
In addition, it is critical that Congress puts economic stimulus money in consumers' hands as quickly as possible.
This will not only help Americans cover their most basic needs but also provide a lifeline to small businesses by pumping money into local economies. There is no doubt that working-class and middle-class Americans will spend stimulus money right away.
We must act now to save Main Street small businesses.
About Businesses for Responsible Tax Reform
Businesses for Responsible Tax Reform is a coalition of business leaders calling for tax reform that truly benefits America's small business owners. We are dedicated to ensuring tax reform is fiscally responsible, creates a level playing field for all businesses, grows the economy and works for our nation's 30 million small business owners. Learn more about us on our website and follow us on Twitter and Facebook.