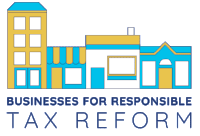 Dear Business Leader:
With the House and Senate passing different legislation aimed at tax reform, businesses owners need to understand how this legislation could have significant, negative implications. Join us to learn more about how this tax bill will impact you, your family, and your business.
Businesses for Responsible Tax Reform came together to give Main Street small business owners a voice during this process and to help entrepreneurs decipher what the proposals mean for you.
Join Businesses for Responsible Tax Reform at a telephone town hall on Tuesday, December 5 at 6:30pm ET/3:30 PT to hear how the legislation will impact small business owners and what you can do to make sure your voice is heard as House and Senate leaders continue their negotiations.
Talk to you Tomorrow!
Frank Knapp
Co-chair
Businesses for Responsible Tax Reform