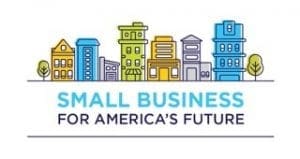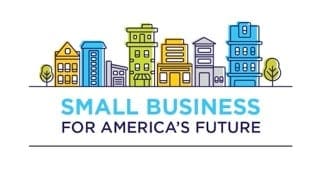 FOR IMMEDIATE RELEASE
Media Contact:
Conan Knoll
conan@emcstrategies.com
(831) 524-6764
Survey: Small Business Owners Support Extending Unemployment Benefits, Say National Reopening Plan Would Help Survival Odds & Want Mask Mandates
Small Business for America's Future national survey of 1,500 small business owners finds 80% think Covid will disrupt business operations for all of 2020 or longer; 56% support extending enhanced unemployment benefits; 77% support government policies requiring masks; 66% say a national plan for opening safely would give business a better chance of surviving the pandemic. Small business owners available for comment
Washington, D.C., July 20, 2020–A national survey of small business owners finds Main Street entrepreneurs overwhelmingly support extending enhanced unemployment benefits and mask mandates, and say a national plan for opening safely would give them a better chance at long-term survival–views that break sharply from the Trump Administration's handling of the pandemic.
"The administration is failing to lead on containing the virus. It has bungled small business relief packages and politicized the wearing of masks, putting millions of small business owners and their employees at risk," said Frank Knapp, Jr., co-chair of Small Business for America's Future. "As always, small business owners are very practical. They see the need for following science and the need to continue putting money in the pockets of the two-thirds of workers who lost their jobs because of the pandemic and have not been rehired. The grave concern is that the lack of Washington leadership could result in their businesses closing again putting their future in further jeopardy. We need action. The future of our Main Street economies depend on it."
The survey of small business owners in Small Business for America's Future's network, fielded from July 10-17 with more than 1,544 small business respondents, found that 80% of small business owners expect Covid-19 to disrupt business for the rest of 2020, if not longer, informing their views on the handling of a number of long-term health and economic issues. The survey found:
Strong support for extending unemployment benefits
56% support extending enhanced unemployment benefits, which are set to expire on July 31
56% are concerned letting enhanced unemployment benefits expire will harm consumer spending
Just 20% say employees are not returning to work because they make more money on unemployment
Vast support for a national plan to reopen safely and mask mandates
68% say we need a nationwide plan for reopening safely
66% say such a plan would give businesses a better chance at surviving the pandemic
77% support government orders mandating masks in businesses, 58% strongly support it
87% say business owners have the right to deny entrance to customers without masks
76% are willing to close or comply with health recommendations that contain the spread of Covid-19 even if it reduces customer traffic if they have government support such as grants or long-term, low-interest loans to help their businesses and employees survive financially
Widespread economic pain
27% have considered closing their business permanently due to Covid-19
21% are facing the possibility of bankruptcy due to Covid-19
58% have taken on debt due to Covid-19, nearly half (49%) have taken on $50,000 or more in debt, 30% have taken on more than $100,000 in debt
56% have spent money on reopening expenses related to Covid-19
Small business owners hold government officials, people who won't follow health guidelines responsible for closing again
29% blame people who don't follow health guidelines such as wearing masks or practicing social distancing
27% blame the president and his administration
25% blame state and local officials
16% blame the media
3% blame other groups
"This is a crisis of leadership. The lack of a national plan to reopen safely has led to a resurgence of the virus. Business openings across the country are being rolled back. Unemployment benefits for our employees are about to run out. It has hurt me and many other small business owners I know," said Candace Combs, owner of In-symmetry Spa in San Francisco. "We need action. Without more unemployment benefits and small business grants people are going to walk out their front door when this is all over and it's going to be a ghost town. All the small businesses you know and love will be gone."
Click here to view the full report and here to watch a video about Small Business for America's Future
To schedule an interview: Contact Conan Knoll, conan@emcstrategies.com, (831) 524-6764.
###
About Small Business for America's Future
Small Business for America's Future (formerly Businesses for Responsible Tax Reform) is a coalition of small business owners and leaders nationwide working to provide small businesses a voice at every level of government. We're committed to ensuring policymakers prioritize Main Street by advancing a just and equitable economic framework that works for small business owners, their employees and their communities. Visit www.smallbusinessforamericasfuture.org. Follow us on Twitter and Facebook. #SmallBizAF.