The US Bureau of Ocean Energy Management (BOEM) is hearing loud and clear that the people and small businesses of South Carolina do not want oil exploration and drilling off the coast of our state.
But there is offshore energy we do want—Wind.
Next Tuesday, Wednesday and Thursday BOEM will hold public hearings to accept comments on developing wind energy off the South Carolina coast.
Tuesday, January 5, 2016; 6:00 PM – 8:00 PM
Mason Preparatory School
56 Halsey Blvd.
Charleston, SC 29401
Wednesday January 6, 2016; 6:00 PM – 8:00 PM
St. James High School
10800 SC-707
Murrells Inlet, SC 29576
Thursday January 7, 2016; 6:00 PM – 8:00 PM
Boulineau's (Second floor meeting room)
212 Sea Mountain Hwy.
North Myrtle Beach, SC 29582
Here are the talking points that the S.C. Coastal Conservation League wants you to know about regarding our potential for wind energy.
Offshore wind represents a large-scale clean energy opportunity for South Carolina that can result in economic and environmental benefits for our state.
An economic impact study conducted by Clemson University in 2012 estimated that developing a 1,000-megawatt offshore wind project, which represents less than 1% of South Carolina's offshore wind potential, would result in over 3,800 jobs, $3.6 billion in economic output, and over $600 million in state & local government revenue.
Our existing ports, infrastructure, and competitive labor market all complement our shallow water offshore wind resource that ranks 2nd on the east coast.
There is enough technical offshore wind potential to power the state 6 times over.
There are four areas of consideration for offshore wind energy (see map).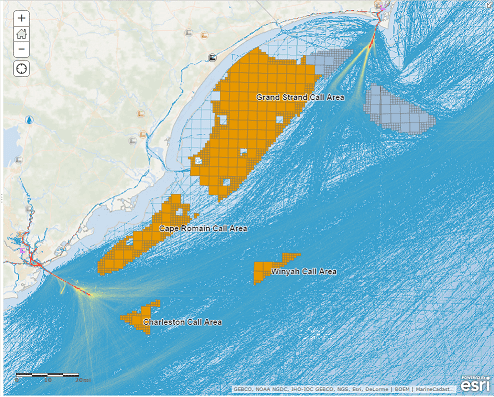 One of the areas, the Cape Romain Call Area, is not suitable for wind energy development according to the Coastal Conservation League.
BOEM needs to remove the "Cape Romain Call Area" from consideration for offshore wind development. The coastline adjacent to the Cape Romain National Wildlife Refuge consists of state, federal, and privately protected lands and represents one of the East Coast's most pristine landscapes. Offshore wind development is not appropriate for this area.
So if you can attend one of these public meetings, please express your support for developing offshore wind energy along our coast. Remind BOEM that we don't want offshore oil exploration and drilling. And echo the Coastal Conservation League's concern about protecting the Cape Romain National Wildlife Refuge.
If you can't attend a meeting but want to submit a comment to BOEM, click here.