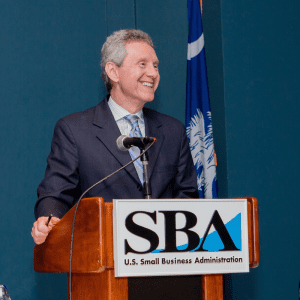 Mr. Knapp co-founded the SC Small Business Chamber of Commerce (SCSBCC) in February of 2000.  He serves as the president and CEO of the 5000+ member statewide advocacy organization that has taken a leadership role in making South Carolina more small business friendly in areas such as taxation, regulation, worker training, Workers Compensation Insurance, utility costs, health insurance, energy/conservation and economic development.
Mr. Knapp serves on the Advisory Board for the South Carolina Small Business Development Center and was recognized by the Small Business Administration as the 2014 South Carolina Small Business Financing Advocate of the Year.  In 2015 SBA Administrator Maria Contreras-Sweet appointed Mr. Knapp to serve on the U.S. Small Business Administration's Region IV Regulatory Fairness Board.
He serves as the Co-Chair of the American Sustainable Business Council and has advocated for reforms at the national level in the areas of health insurance, regulations, access to capital, taxation and the environment/energy.  He also co-founded the Business Alliance for Protecting the Atlantic Coast.
Mr. Knapp is also the president of The Knapp Agency, a full service advertising/public relations firm he founded in 1991 in Columbia, SC. For over 25 years he has provided marketing services to locally-owed small businesses.
Mr. Knapp holds a Master's Degree in Social Psychology from the University of South Carolina and a Bachelor's Degree in Psychology from Indiana University of Pennsylvania.