The State
January 28, 2016
By Vera Bergengruen
McClatchy Washington Bureau
WASHINGTON
Actress Kate Walsh teamed up with 50 coastal leaders for a day of lobbying Wednesday on Capitol Hill, asking federal officials to protect the Atlantic coast from the offshore drilling exploration planned by the Obama Administration.
The group also met with officials of the White House and the Department of the Interior, which plans to hold a lease sale for the Atlantic drilling sites in 2021.
The two-day Coastal Voices Summit, organized by conservation group Oceana, kicked off Tuesday at George Washington University with more than 100 coastal leaders and celebrities, including Ted Danson, known for his role in TV's "Cheers," Sam Waterston of "Law & Order" and Walsh from "Grey's Anatomy."
"It has only been six years since the Gulf oil spill, and it seems as if our government has forgotten that it ever occurred," Walsh said at the event. "Everywhere we've drilled, we've spilled, and it's time to stop this dirty and dangerous cycle before it starts in the Atlantic. It's time for President Obama to say no to East Coast drilling."
They were joined by U.S. Sen. Sheldon Whitehouse, D-R.I., U.S. Rep. Alan Grayson, D-Fla., and local and state elected officials.
U.S. Rep. Mark Sanford, R-Charleston, who represents a coastal district that includes Charleston and who has been vocally opposed Atlantic offshore drilling, was scheduled to attend but had to change his travel plans after a blizzard shut down much of the East Coast last weekend.
Charleston, like 100 other municipalities along the Atlantic coast, formally has opposed drilling off its shores despite a proposed 50-mile buffer along the coastline within which drilling would be prohibited.
The Bureau of Ocean and Energy Management is expected to release its finalized five-year plan for offshore oil and gas drilling leases by March, including – for the first time in 30 years – the waters off South Carolina, North Carolina, Virginia and Georgia.
Coastal communities and environmental groups have been fighting state leaders who argue opening the coast to offshore drilling is safe and would bring jobs and billions in revenue to their states. The governors of the four states under consideration have asked the Bureau of Ocean and Energy Management to be included in the plan.
But others don't want drilling to move forward.
"Recently, we delivered a letter to (South Carolina) Gov. Nikki Haley that was signed by over 430 small-business owners asking her to change her position and oppose offshore drilling," Frank Knapp Jr., chief executive of the S.C. Small Business Chamber of Commerce, said at the Tuesday event.
More than 68,000 S.C. jobs depend on ocean sectors, including tourism and fishing, according to a report by the Middlebury Institute of International Studies at Monterey.
"The hundreds of thousands of jobs dependent on a healthy tourism economy are dependent on a healthy ocean," Knapp said. "No small business owner or CEO of a Fortune 500 company, other than the petroleum industry, would risk their successful business by starting an incompatible side business. Only foolish politicians would even think of doing such a thing."
Coastal leaders met with 30 congressional offices Wednesday, including U.S. Sen. Lindsey Graham, R-Seneca, U.S. Rep. Tom Rice, R-Myrtle Beach, and Sanford.
South Carolina's coastal leaders have played a large role in Oceana's anti-drilling efforts. Sanford and Charleston City Councilman Mike Seekings are featured prominently in the organization's "Protect Our Coast" campaign video.
"As a trained petroleum engineer and former roustabout on offshore drilling rigs, I can tell you firsthand that working on the rigs is a risky job," Peg Howell, a former oil company employee and spokesperson for Stop Offshore Drilling in the Atlantic, based in Pawleys Island, said Tuesday.
"I've also seen firsthand what offshore drilling does to coastal communities, and I will tell you that it has no place along the Atlantic coast. This is a forever decision."
http://www.thestate.com/news/politics-government/politics-columns-blogs/the-buzz/article56900073.html
On January 27, 2016, coastal leaders opposing offshore drilling in the Atlantic and representatives from Oceana met with the White House's Executive Office of the President and Council on Environmental Quality.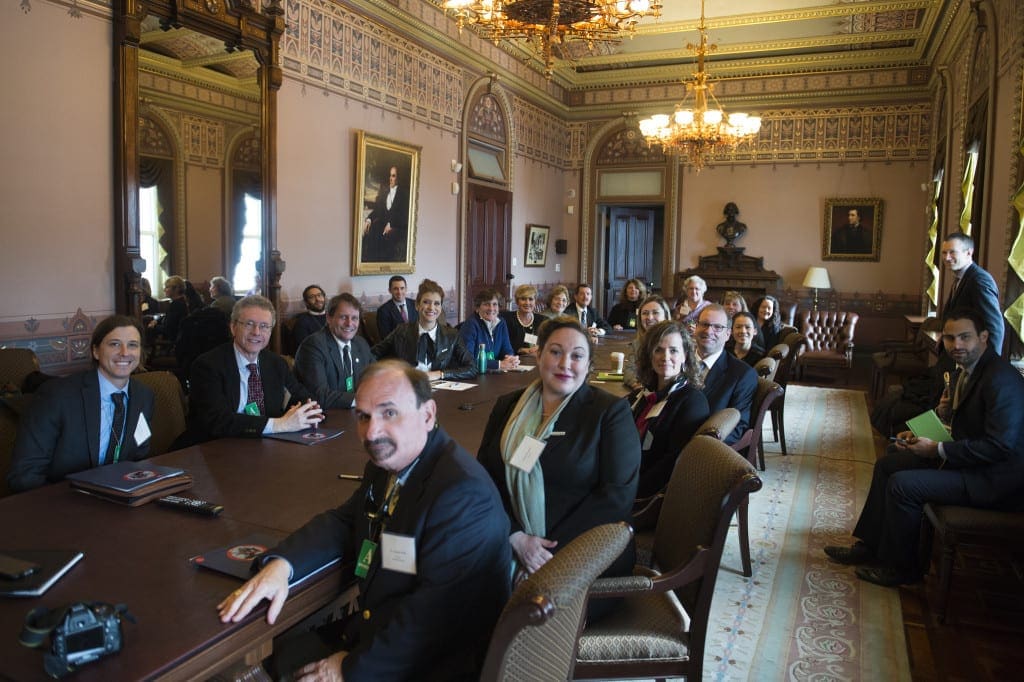 Oceana/Franz Mahr