Charleston Post and Courier
April 23, 2014
By David Slade
Marine science projects, including one involving a blue crab running on a treadmill, were on display in a James Island research building Tuesday as a U.S. senator arrived to learn more about climate change.
Sen. Sheldon Whitehouse (D-R.I.) is already well-versed on the subject, as co-chair of the Bicameral Task Force on Climate Change and the Senate Climate Action Task Force, but he was touring coastal areas in the South to learn more about regional impacts.
He was greeted on Earth Day at the Hollings Marine Laboratory by Charleston Mayor Joe Riley, who has described climate change as one of the Earth's greatest threats, and has signed several carbon-reduction pledges on the city's behalf.
Riley said mayors in coastal cities like Charleston, where rising sea levels complicate efforts to address downtown flooding, are on board with the idea that climate change is a threat to be addressed.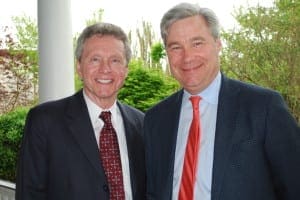 (Frank and Senator Sheldon Whitehouse in Charleston)
Whitehouse said he hopes that having information and examples from other federal lawmakers' home states will help him as he seeks support for congressional action to address carbon emissions. Spokesmen for South Carolina's senators, Lindsey Graham and Tim Scott, did not respond to messages seeking comment on the issue.
Whitehouse would like to replace some existing federal taxes with a tax on carbon, which would essentially be a tax on gasoline and energy produced by burning coal and gas.
"I'm trying to build a consensus in Washington that climate change is real, and addressing it can be good for our country," he said.
So far, Whitehouse has been tenacious, but hasn't had much success. A recent CNN article said: "Whitehouse has spoken about the issue every week the Senate has been in session for the past two years, culminating in 60 speeches that have gone largely unnoticed by the public."
Whitehouse said that the public is, however, taking more notice of extreme weather and changes that can be seen and felt.
"I think this is an issue that will tip more quickly as people observe what is going on and make the connections," he said.
At the same time, people tend to confuse weather and climate, and could just as easily take a cold winter as evidence the planet isn't warming up.
"With climate change it's not just sea level rise, but the intensity of storms and how that affects coastal communities," said Jeffrey King, acting director of the Hollings Marine Laboratory. "NOAA (the National Oceanic and Atmospheric Administration) and other agencies do recognize this as being a priority."
At the lab, scientists with NOAA, College of Charleston, South Carolina Department of Natural Resources, and other organizations are studying things such as the impact on habitat as salt water intrudes further inland, the growing threat of toxin-producing algae spreading into new habitat, and ocean acidification.
College of Charleston biology Prof. Louis Burnett, whose earlier experiment with a shrimp on a treadmill turned into a viral online video, had a crab on a treadmill Tuesday. He's not trying to exercise the crab, though he said they could run for seven hours.
Burnett said the treadmill helps to test the effect of things like changes in dissolved oxygen concentrations in the water, or greater acidification caused by higher carbon dioxide levels.
He said crabs seem to do fine with more acidic water but "it is a problem for shrimp."
In the South along the Atlantic Coast – an area that's seen some of the fastest population growth in the Eastern U.S. – sea levels have been rising gradually, about 1 foot during the past century, but could rise by multiple feet by 2100 if some climate change projections bear out.
The dangers range from direct threats to barrier islands in the Carolinas, to increased flooding and drainage problems in low-lying cities, to the loss of marsh habitat. Animals, plants and tropical diseases have been migrating North with the warming climate.
"We see the fisheries changing dramatically," said Whitehouse, who said people can now catch grouper off Rhode Island.
In Washington, today's politically polarized Congress has done little to address climate change, and clearly isn't close to something like the carbon tax Whitehead would prefer. Outside of Congress, the last two recessions, in 2007-2009 and 2001, shifted a great deal of public interest from the environment to the economy.
A March Gallup poll found that just 31 percent of Americans said they worry "a great deal" about climate change – the lowest number in at least 14 years. Among Republican and Republican-leaning Americans just 10 percent said they worry a great deal about climate change.
"By the time it does become people's number one priority, they will want to know: 'Where were you and why didn't you do something?'" said Whitehouse.
The latest report created by hundreds of scientists for the Intergovernmental Panel on Climate Change warns that flooding, disease, threats to food and water supplies, increases in global poverty and other dramatic impacts can be expected if nations don't dramatically reduce carbon emissions.
Meanwhile, many Americans are not convinced the problem even exists.
In March an Associated Press-GfK poll found that 37 percent of Americans were not confident that man-made emissions are causing the average global temperature.
http://www.postandcourier.com/article/20140422/PC1610/140429778/1177/earth-day-brings-rhode-island-senator-to-charleston