On the morning of September 14, 2010, I participated in a press conference with four U.S. Senators at the Capitol in Washington to show support for the Small Business Jobs Act that was set for a vote that afternoon.  I was representing the S.C. Small Business Chamber as well as the American Sustainable Business Council.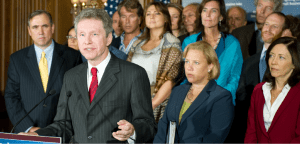 Those were the days when Congress could actually get things done to solve problems.
Our message was very clear….we needed financial support from Congress to boost the availability of capital for small businesses to grow.  The Great Recession had hit small businesses extremely hard in their ability to access capital and without small businesses creating jobs the country would never get out of the recession.
That afternoon the Small Business Jobs Act of 2010 passed the Senate and it was signed into law by President Obama.
One of the provisions of that legislation was the establishment of the State Small Business Credit Initiative (SSBCI) within the U.S. Treasury Department.  The SSBCI was to take up to $1.5 billion in federal dollars and leverage those dollars to generate $15 billion in private sector lending and investment for small businesses including small manufacturers.  States and municipalities received these funds and the money did not have to be repaid to the federal government.  Instead businesses paid back the loans to the states or municipalities and if was then to be recycled to help other small businesses with capital needs.
For all the naysayers out there who don't think government has a role in spurring economic development or who say that government can't run anything well, the SSBCI is proving them wrong.
A report was released today detailing how successful this program has been in helping small businesses.  And which state is a leader in successfully using the SSBCI funds?  SOUTH CAROLINA
That's right.  The state that wants you to believe that it hates every federal government program is, according to the SSBCI, a "leading state in deploying these (SSBCI) funds to local lenders and small businesses."
South Carolina has deployed 95 percent of its total $17,990,415 in SSBCI funds through the South Carolina Jobs and Economic Development Agency (JEDA), and it has recycled $532,106 of the funds it has deployed. The state has participated in the SSBCI program since 2011, and the JEDA, in partnership with the Business Development Corporation of South Carolina (BDC) is using these resources to leverage greater levels of private lending to small businesses. South Carolina has made 101 SSBCI investments as of December 31, 2013, supporting loans to a variety of businesses.

BDC has been excited to be the design and delivery mechanism for the U.S. Treasury, for South Carolina, for JEDA, for local financial institutions, and most importantly for the small business community," said Edwin Lesley, President and CEO of BDC.  "This has truly been one of the most successful public-private partnerships for funding South Carolina's small businesses during difficult economic times.
We won't hear our South Carolina elected officials bragging about this successful federal program.  It would hurt their narrative of telling Washington to leave us alone.