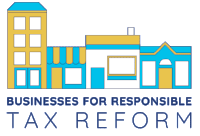 FOR IMMEDIATE RELEASE
Statement by Frank Knapp, Jr. co-chair of Businesses for Responsible Tax Reform and founder and CEO of the South Carolina Small Business Chamber of Commerce, on the House Committee on Ways and Means Vote to advance key piece of 'Tax Reform 2.0' legislation
Washington, D.C., Sept. 13, 2018—The House GOP today continued its headlong rush toward a financially reckless vote on "Tax Reform 2.0," a tax package that is more about political gamesmanship than fixing the enormous disparities created by the original law that favor corporations and the wealthy.
The GOP says these tax proposals will "lock in" provisions of the last year's tax law, including an inadequate small business deduction that 59 percent of small business owners said will not help them give raises and 69 percent said will not help them hire, according to polling from Businesses for Responsible Tax Reform.
Just what would this lock in? A small business provision that will mostly go to 200,000 Americans making more than $1 million a year by 2024; billions of dollars for large corporations while calculations show the small business owners making less than $200,000 save an average of $660; stagnate wages for the workers who are also small business customers. And increase the national debt by $2.5 trillion over a decade when more than 61 percent of business owners opposed increasing the debt to pay for the first round.
Let's not pretend this is about the economy. It's about politics ahead of the November elections. The unpopularity of Republican Congressional candidates is a self-inflicted wound brought on when they gave the lion's share of the original law's benefits to corporations and the wealthy rather than creating a plan that helps the middle class and our job creators—small businesses.
Instead of doubling down on bad policy, lawmakers must create a plan that gives Main Street small businesses an equal seat at the table and helps small business owners invest in their businesses and their employees.
###
About Businesses for Responsible Tax Reform
Businesses for Responsible Tax Reform is a coalition of business leaders calling for tax reform that truly benefits America's small business owners. We are dedicated to ensuring tax reform is fiscally responsible, creates a level playing field for all businesses, grows the economy and works for our nation's 30 million small business owners. Learn more about us on our website and follow us on Twitter and Facebook.
Contact:
Conan Knoll
conan@emcstrategies.com
(831) 524-6764