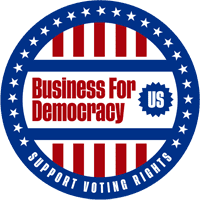 August 31, 2023
Webinar on September 6th at 3PM ET
 Register here:

The Business for Democracy monthly webinar will be Wednesday, September 6th, at 3PM ET.  Please mark your calendars.
Fresh off a successful effort by many organizations (including our Ohio Business for Democracy collaborative) to protect citizen ballot initiatives, Ohio organizations now have their sites on one of the biggest threats to democracy—gerrymandering.
Our September webinar will feature Sean Soendker Nicholson who is directing the "Citizens Not Politicians" campaign in Ohio for a ballot initiative to amend the state Constitution to:
replace the current politician-run redistricting process with a citizen-led commission required to create fair state legislative and congressional districts through a more open and independent system.
"Citizens Not Politicians" is being led by former Republican Ohio Supreme Court Chief Justice Maureen O'Connor.
Please register for this very informative webinar.
https://us02web.zoom.us/meeting/register/tZYsdOuprjkrGNwEkbrD1qeJfJyfq61HSEdV
After registering, you will receive a confirmation email containing information about joining the meeting.
We look forward to seeing you on Wednesday, September 6th, at 3PM ET.
Frank Knapp
Director
Business for Democracy
803-600-6874
Business for Democracy is a campaign of the American Sustainable Business Network, which is partnering with Rank The Vote, a national grassroots organization advocating for ranked choice voting.