Columbia, SC—U.S. Senators heard the voice of coastal businesses dependent on a healthy ocean for their livelihoods today. Rick Baumann, founder of Murrells Inlet Seafood, told the Senate Committee on Small Business and Entrepreneurship that a federal agency was failing to protect water-based businesses like his.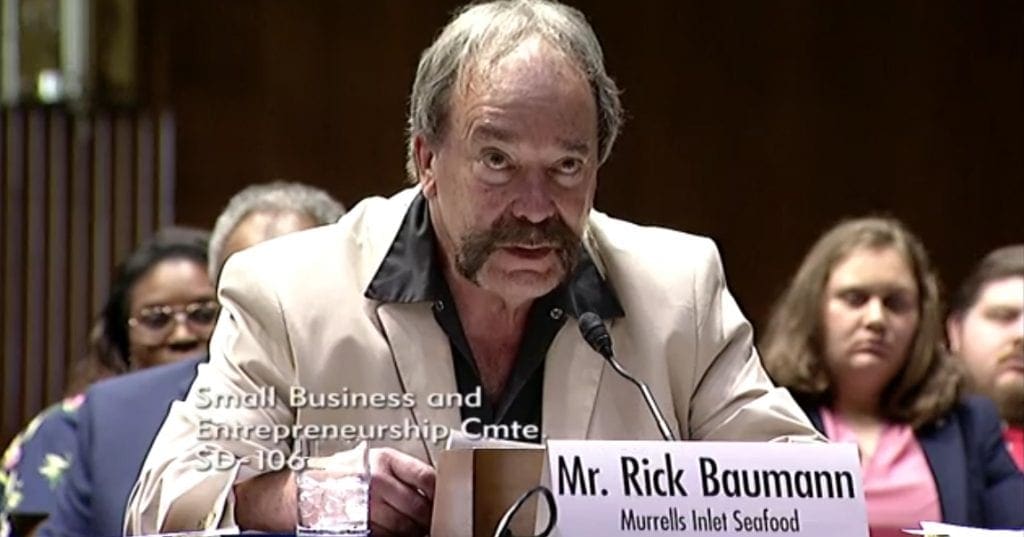 (Click hear to watch Mr. Baumann's testimony starting at 1:13:23)
The Committee heard testimony on the reauthorization of the SBA's Office of Advocacy, whose mission is to represent small businesses in the development of federal regulations.
"The voices of all small businesses in helping shape good, timely regulations and government actions are not being adequately heard," said Baumann in his criticism of the Office of Advocacy.
Baumann gave example after example of how the Office of Advocacy has harmed small businesses by not supporting sustainable business regulations.
"Too often needed regulations like these are slowed, watered down, terminated or not even considered by Advocacy due to the lobbying of big business interests who seek to maximize their profits with no regard to sustainability or the resources," said Baumann.
Baumann testified on behalf of the American Sustainable Business Council. He serves on the Board of Directors of the South Carolina Small Business Chamber of Commerce.
###