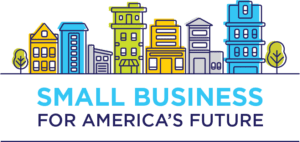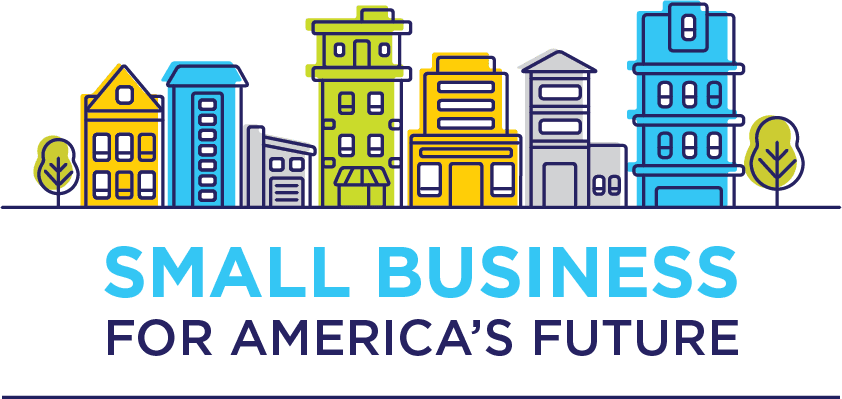 FOR IMMEDIATE RELEASE
Contact:
Conan Knoll
conan@emccommunications.com
(831) 524-6764
Founding Small Business for America's Future Co-chair Frank Knapp Jr. to take active role in serving the organization as policy and outreach advisor and long-time small business owner and advocate Walt Rowen to become co-chair
Washington, D.C., April 4, 2022— Small Business for America's Future (SBAF), one of the nation's leading small business advocacy organizations, is announcing two leadership changes: founding Co-Chair Frank Knapp Jr. will step into a new role serving as the organization's policy and outreach advisor and long-time small business owner and advocate Walt Rowen will become co-chair.
Frank Knapp Jr. Becomes SBAF Policy & Outreach Advisor
Knapp, who is also co-founder and president of the South Carolina Small Business Chamber of Commerce, began serving as co-chair of the organization in November of 2017, under its original incarnation as Businesses for Responsible Tax Reform. Knapp brought a thorough understanding of small business issues and policy as well as years of advocacy experience that helped quickly establish the organization as a premier national voice for small businesses. He was instrumental in transforming the tax-focused organization into Small Business for America's Future, a multi-issue small business advocacy group that seeks to help Main Street small businesses thrive.
"Frank has been a foundational member of our team and we are grateful for his contributions as co-chair," said SBAF Senior Advisor Rhett Buttle. "We are thrilled that Frank will continue to contribute his considerable organizing and policy chops in his role as policy and outreach advisor. He is a passionate voice for entrepreneurs and works hard every day to ensure policymakers prioritize our nation's 30 million small businesses. As our country recovers from years of economic shock, we need strong voices like Frank's to ensure we are creating an environment for small businesses to thrive."
In his new role as policy and outreach advisor, Knapp will work on policy development and outreach to small business owners and policymakers around taxes, healthcare, and democracy issues as they relate to Main Street's entrepreneurs.
"It's critical that the Biden administration and Congress continue their investments into our nation's small businesses in order to maximize our economic recovery and I'm excited to get to work in this new role to make sure they do," Knapp said. "For small businesses to thrive, we need policies that rein in the cost of healthcare and prescription drugs, create a paid family leave program and create affordable options for childcare. And I'll be there to make sure our elected officials know it."
Walt Rowen becomes SBAF Co-Chair
Walt Rowen, president of Susquehanna Glass Co. in Columbia, Penn., will join Small Business for America's Future as a co-chair. SBAF co-chairs, all of whom are entrepreneurs, provide small business insight on policy and advocacy issues, serve as spokespeople for the media and policymakers, and help lead the organization's small business owner engagement activities.
Prior to his appointment, Rowen served on SBAF's Small Business Council. As the third-generation owner of Susquehanna Glass, which was established by his grandfather in 1910, Rowen brings decades of experience as a small business owner. The factory produces and sells consumer glass products to many of the nation's best known retailers and employs about 75 people.
Rowen has also long advocated for public policy that helps small businesses and their workers grow and thrive. He has a particular interest in healthcare and paid family and medical leave programs that can help small businesses compete with large corporations for the best employees.
"I'm delighted to join the team of dedicated small business leaders," said Rowen. "As a small business owner, I know how important it is to advance policies that enable our country's entrepreneurs to succeed. The Covid-19 pandemic has underscored the importance of our Main Street businesses to our economy and how crucial it is that we implement policies that uplift and support America's entrepreneurs."
###
To request an interview with Small Business for America's Future Policy & Outreach Advisor Frank Knapp Jr., or Co-Chair Walt Rowen, contact Conan Knoll at (831) 524-6764 or conan@emccommunications.com.  
About Small Business for America's Future
Small Business for America's Future is a national coalition of small business owners and leaders working to provide small businesses a voice at every level of government. We're committed to ensuring policymakers prioritize the nation's 30 million small businesses to create an economy that works for them, their workers and their communities. Visit www.smallbusinessforamericasfuture.org. Follow us on Twitter and Facebook. #SmallBizAF.