Charleston City Paper ran a great story about our SCBARS project. However, while the blue tape in phase 1 of the project did represent the water level under a 6 foot sea level rise, in today's phase 2, we are simply asking businesses to put the blue tape up anywhere on their building to show their concern about rising seas and support for transitioning to a clean energy economy.
Small Business Chamber head urges city officials to prepare for rising sea levels 
That Sinking Feeling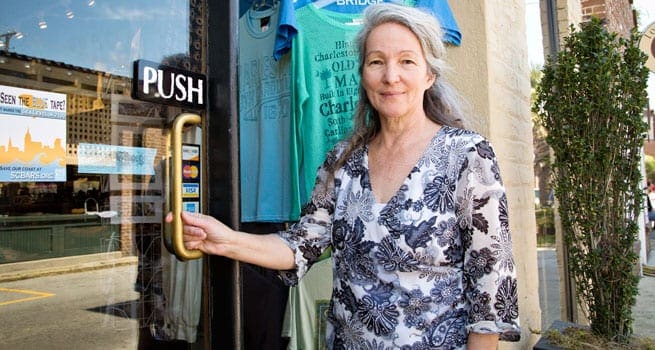 The ocean is rising. We live on the coast. What are we going to do about it? That's the question being posed by Frank Knapp, president of the S.C. Small Business Chamber of Commerce, who recently spent a few days discussing the problem with Charleston city officials and business owners.
Knapp says he wants to be "methodical, not alarmist," but the picture he paints is more than a little alarming. Using the Sea Level Rise Viewer, an online mapping tool from the National Oceanic and Atmospheric Administration that released new data for the South Carolina coast two weeks ago, it's possible to visualize a range of scenarios for the next 100 years. By NOAA's most modest prediction, based on current rates of sea level rise, oceans will rise about one foot worldwide by the year 2100. By the direst prediction, based on rapidly melting ice caps and the expansion of warm ocean water, it will rise six feet.
What does that mean locally? If the Atlantic Ocean rises six feet, Sullivan's Island and Folly Beach will practically disappear. Much of the Navy Yard in North Charleston will be submerged, including the planned intermodal rail terminal at the southern end.
Looking at the Charleston peninsula, even if the ocean rises just two feet, Colonial Lake will expand twice a day at high tide to cover a lot of pricey South of Broad real estate in a briny deluge, and the streets surrounding the S.C. Aquarium will have their own fair share of saltwater fish on display at high tide. Problems that currently only arise during heavy rainstorms will become daily occurrences. (One city official notes that existing drainage pump stations near the Aquarium will likely keep the flooding at bay — as long as the ocean doesn't rise more than two or three feet.)
So, what to do? Knapp doesn't have an answer yet, but for now, he's asking governments around the Lowcountry to start planning.
"We would like Charleston to be the first in the state to pull together a task force of interested parties: the small business community, residents, bring in the scientists from your colleges here, your conservation folks, your engineers from the Citadel. Bring everybody to the table," says Knapp, the owner of a Columbia dog kennel who founded the Chamber in 2000.
The Small Business Chamber's latest initiative, South Carolina Businesses Acting on Rising Seas (scbars.org), is also asking business owners to raise awareness of the threat of rising tides, reduce their own carbon footprints, support a transition to clean energy, and join local governments in planning for a soggy future. Shop owners are being asked to place a strip of blue tape on their wall to show where a six-foot rise would reach at high tide.
Laura Cabiness, director of the City of Charleston's Department of Public Service, says she has gotten used to answering questions about sea level rise. "The city's been dealing with sea level rise since its founding," Cabiness says.
"The flooding that we have today is a combination of a result of sea level rise and subsidence [or gradual sinking] of land that was filled rather loosely," Cabiness says, noting that only about 50 percent of the peninsula is made up of the original landmass. Over the centuries, the city has expanded out onto the water, with the new land often formed by little more than piles of garbage atop pliable pluff mud.
Cabiness says the city hasn't formed a task force to address sea level rise yet, although she says, "I think we're heading in that direction."
In the meantime, Cabiness says the city has three tools to use against the slowly rising tide. First, the city can continue making structural improvements, including installing backflow preventers on storm drains, raising roadways in flood-prone areas (as has already been done several times with Lockwood Boulevard and Hagood Avenue), and expanding the subterranean drainage tunnels and pump stations that have been a hallmark of the four-decade Joseph P. Riley Jr. administration. Cabiness estimates that existing pump systems are already draining about 40 percent of the peninsula.
Second, in an effort to curtail its contribution to climate change, Cabiness says the city can work to reduce its energy use and carbon emissions. Recently for example, the city swapped out all of its parking garage lights for LEDs and encouraged employees to drive hybrid vehicles (Mayor Riley, famously, drives a black Prius).
Third, Cabiness says the city can use its political influence to increase pedestrian and bicycle access, encourage families to live closer to where they work, and urge businesses to cut down on their emissions and energy consumption through programs like the Green Business Challenge.
Blue Tape
On a stormy day at high tide, the floodwater already reaches Sandy Bridges' doorstep. As co-owner of Charleston Hammock Co., a South Market Street shop, she's seen the dark water creeping up the two front steps and into her doorway on days when few tourists dare to wade through the waist-high river of backed-up drainage.
So when Knapp showed up in her store one day asking her to put some blue tape on the wall, she was an easy sell. "He's preaching to the choir," she says. "I'm concerned and have been concerned." The tape, which she placed on her front door, reaches the height of her shoulders.
Just blocks from Bridges' shop, a NOAA measuring station in the water near the U.S. Customs House has been recording a slow rise of the ocean for the past 93 years. Factoring in that the city sinks an average of 1.24 mm per year, the level of the sea relative to the level of the land rises about 3.15 mm every year.
In the short run, that's barely noticeable. But at that rate, a few millimeters at a time, the Atlantic Ocean has risen by one entire foot along the Charleston coast in the past 100 years. And according to Doug Marcy, a coastal hazards specialist at NOAA, most projections show that the rate of ocean rise will only accelerate in the next century.
Marcy says he prefers not to get into the debate about whether climate change — and thus sea level rise — is caused by humans. "You can argue all day long about what's causing it, but the fact is it's going up," Marcy says.
At NOAA, all he can do is provide the data. Governments and private citizens have to decide what to do with it.
"It starts the conversation," Marcy says. "People's immediate reaction is, 'Wow, this is not good. What can we do about this?'"