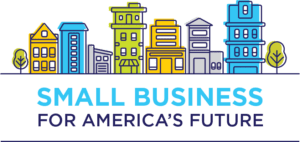 FOR IMMEDIATE RELEASE
Contact
Conan Knoll
conan@emccommunications.com
(831) 524-6764
Jared Thompson
jared@smallbusinessforamericasfuture.org
(260) 797-2530
More than 500 small business leaders across the country and in South Carolina joined Small Business for America's Future sent a letter early this morning. telling Senate and House members that infrastructure investment is key to economic recovery and that they should act swiftly to send legislation to the president's desk.
Washington, D.C., August 10, 2021—This morning, business leaders in South Carolina joined more than 500 small business leaders from across the country in releasing a letter with Small Business for America's Future acknowledging the imminent passage of the Bipartisan Infrastructure Deal by the Senate and calling on the House to vote on the legislation without delay and deliver it to President Biden to sign into law.
"Small business is central to building a thriving rural economy in South Carolina, and nationwide broadband is critical to building an economy for the future in every community and every industry," said Frank Knapp, Jr., Co-Chair of Small Business for America's Future and the CEO of the South Carolina Small Business Chamber of Commerce. "The Bipartisan Infrastructure Deal provides a real opportunity to address a devastating gap in internet access across the state, while also driving economic growth, creating jobs, and in turn, increasing demand for the goods and services small businesses provide. I'm proud to join Small Business for America's Future and my fellow small business leaders in South Carolina to help get it passed."
The joint letter included signatures from a diverse group of leaders, business owners and advocates, with representation from 38 states including South Carolina. The group of small business owners urged the House of Representatives to pass the Senate's infrastructure bill. The legislation will rebuild roads, bridges, and transportation infrastructure, and will modernize the energy, internet, and water systems that small businesses rely on every day.
If signed into law, the Bipartisan Infrastructure Deal would:
Ensure every American has access to reliable, high-speed internet through broadband investments.
Make the single largest investment in public transit ever, and the largest investment in passenger rail since Amtrak was created.
Make the largest investments in bridges since the creation of the interstate highway system.
Dedicate the largest investment in drinking water in American history and deliver clean drinking water to millions of Americans.
Create a clean, resilient power grid for the 21st Century through the largest investment in electrification and electric vehicle infrastructure in history.
In Small Business for America's Future's recent national survey of more than 1,000 small business owners, 76% of small business owners said they believe infrastructure investment will boost the economy, and 72% say it will help small businesses specifically.
The letter also urged additional investment in important human infrastructure including childcare, paid leave and a social safety net that strengthens America's workforce. These measures enjoy strong small business support according to the survey with 70% supporting federal investments in paid leave, 75% supporting making childcare more affordable, and a whopping 87% supporting investments to improve long-term care.
Small businesses are the backbone of South Carolina's economy—driving economic growth and job creation—and with smart investments in infrastructure, Congress can ensure the road to recovery and a strong economy is smooth and equitable for all.
"This bold and expansive infrastructure package comes at a critical time for Main Street and passing it is an important step for helping small business owners recover from the pandemic," said Anne Zimmerman, Co-Chair of Small Business for America's Future and owner of Zimmerman & Co. CPAs, in Cincinnati, Ohio. "Small Business for America's Future is proud to join the small business owners, leaders and advocates who signed onto this effort to ensure small business voices are heard in Washington."
You can read the full letter signed by over 500 small business owners here.
To request an interview with Frank Knapp, Jr. or Anne zimmerman, contact Jared Thompson at (260) 797-2530 or jared@smallbusinessforamericasfuture.org.
###
About Small Business for America's Future
Small Business for America's Future is a national coalition of small business owners and leaders working to provide small businesses a voice at every level of government. We're committed to ensuring policymakers prioritize the nation's 30 million small businesses to create an economy that works for them, their workers and their communities. Visit www.smallbusinessforamericasfuture.org. Follow us on Twitter and Facebook. #SmallBizAF.